Inaka
597 Vanderbilt Ave, Brooklyn, NY 11238
Order now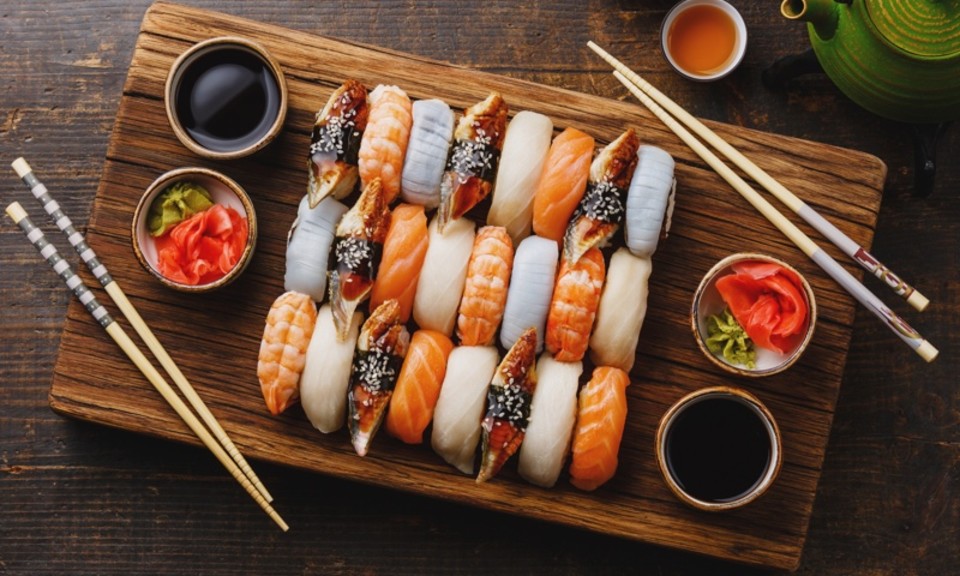 Sarah
All the food was very delicious. Inaka has a really good deal with their combination box. It's alot of food for 20. I ordered beef teriyaki and fried rice. The beef was cooked perfectly, and even arrived at the perfect cook, nice and tender, some pink in the middle. The sauce was lovely and I never knew Japanese fried rice was so good. The roll that accompanied the beef, eel cucumber was also delicious. I could tell too that it was fresh made as the rice wasn't solid and stiff, the eel sauce was very yummy. Same for the california roll included on the combo. I like the added to touch too of edamame, soup and salad. It lets you have a little taste of everything in the restaurant. I will definitely order this and from this restaurant again. My compliments to the chefs.
John
Before I start this review I'd like to mention that for my entire life I have not liked seafood. I've tried it a number of times and I just haven't liked it, in fact I've completely hated it. So generally even just being around sushi has made gag. Not too long ago I had tried a California roll at another restaurant and I didn't really hate it, so I figured maybe there's hope I can find sushi I like, that's where Inaka comes in. I ordered the Pink Lady Roll and the California Roll and both were excellent. I especially liked the Pink Lady Roll which I was afraid I might not like because of the spicy tuna (which is why I also ordered the California Roll.) The food came very quickly and the Pink Lady Roll was large and very filling just by itself.
Hadley
Our options for delicious delivery are pretty limited in Bed-Stuy. Luckily, we do have a few gems like Inaka available to us. This was our first time ordering, but will certainly not be the last. The sushi was not your standard skimpy hand roll. It was fresh, beautifully prepared, and overflowing with delicious fish. Our entrees were also full of flavor and well prepared. Delivery was fast and polite, and even the woman who called to inform me they were out of an item was really nice and appreciative of our order. I highly recommend this restaurant!
Michael
Not only does inaka serve the best tasting and freshest sushi I've ever had, their delivery men are always incredibly professional and kind. The man that delivered my lunch didn't have enough change for me and without second thought or exasperation offered to return in twenty minutes with it, leaving me to enjoy my food. Cannot recommend this restaurant highly enough. You won't be disappointed.
Rebecca
Biggest portions of sushi I've had in Brooklyn. Really worth the extra money if you're looking to treat yourself to delicious, fresh sushi. I've never been in the actual restaurant, but whenever they deliver, it's not gross and doesn't smell like it's been sitting out for hours, which happens a lot with delivery sushi. Anywhoo, they're amazing and you should give them your business.
Brian
Inaka is becoming my new sushi delivery standard! Their bento box is a fantastic deal when you order the sushi/sashimi combo that comes with a beautiful presentation. Instead of soy sauce packets, they give you little cups with lids. In addition, you get a nice side portion of edamame, and because they were a little late with my order perhaps, they gave me an extra side cup of it. The fish is ALWAYS fresh and beautifully displayed in the tray. Unlike other services, they give you multiple shiso leaves with your sashimi which is fantastic. Their side salad isn't a mess of iceberg but a nice mix of leaves with a rich ginger dressing. I love their miso soup which also has a rich flavor and full of goodies. I lived in Japan for ten years and know my sushi, and while this isn't Japanese standard, it's as good as any average Japanese sushi you can find which is a high compliment for American sushi. I'm tempted to order every night! :)
Mark
After hunting for a number of years in the North Slope/Prospect Heights area for quality sushi we finally found it here. First of all, they get the basics right. Unlike so many of the other places we ordered from, their sushi tends to be fresh, and buttery smooth instead of chewy and stringy. They do well with the typical appetizers, but an interesting standout is the miso black cod. A-M-A-Z-I-N-G. As far as the Chef's special rolls, do yourself a favor and try the Pink Lady Roll. Some people below said that their delivery was slow. It usually takes them about 45 minutes to get to us. Yeah, that's a little longer than some places, but they make it up with the quality of their product. We've eaten at the restaurant a number of times and have always had good, professional service. The backyard area is a nice place to relax and sip some sake. Overall, they're a very welcome addition to the neighborhood.
Holly
Inaka is awesome! Their food has always been good and I've either eaten there or gotten delivery about 5 times now. Everything always seems fresh, and there's a lot of variety. My roommate likes them too. Their delivery is quick, which is great (though we are quite close by, so that helps). AND my roommate and I both independently agree that they are so super NICE! Seriously, the waitstaff and the delivery guys are all super sweet. They are a great addition to the hood.
michelle
Whenever I crave sushi for delivery, I'm always torn about what restaurant I should use....I've tried a lot of options in the Heights/Carroll Garden area, and none of them have really satisfied me: some have been down right bad. Tonight I ordered from Inaka for the first time...I've never heard of it before, but THIS is now my go-to spot for sushi! Well done! Fast, friendly delivery, within the noted time frame, and the sushi was fresh and delicious. Keep it up guys!!!
sarah
Always delicious, always on time, always courteous, always worth the money.
They replaced the black cod with Chilean sea bass which I was bummed about at first but when I tried it was soooooo good. Fresh fish, delicately prepared, grilled seasoned and sauced perfectly.
Highly recommended! Order from this place and you will not regret. Help keep this place open and keep enjoying their wonderful cuisine.
About us
Asian, Dinner, Healthy, Japanese, Lunch Specials, Sushi, Vegetarian
Today

Delivery: 12:30 PM - 10:00 PM

Takeout: 1:00 PM - 10:00 PM

Delivery

Tuesday:

12:30 PM - 10:00 PM

Wednesday:

12:30 PM - 10:00 PM

Thursday:

12:30 PM - 10:00 PM

Friday:

12:30 PM - 10:30 PM

Saturday:

12:30 PM - 10:30 PM

Sunday:

12:30 PM - 10:00 PM

Takeout

Tuesday:

1:00 PM - 10:00 PM

Wednesday:

1:00 PM - 10:00 PM

Thursday:

1:00 PM - 10:00 PM

Friday:

1:00 PM - 10:30 PM

Saturday:

1:00 PM - 10:30 PM

Sunday:

1:00 PM - 10:00 PM